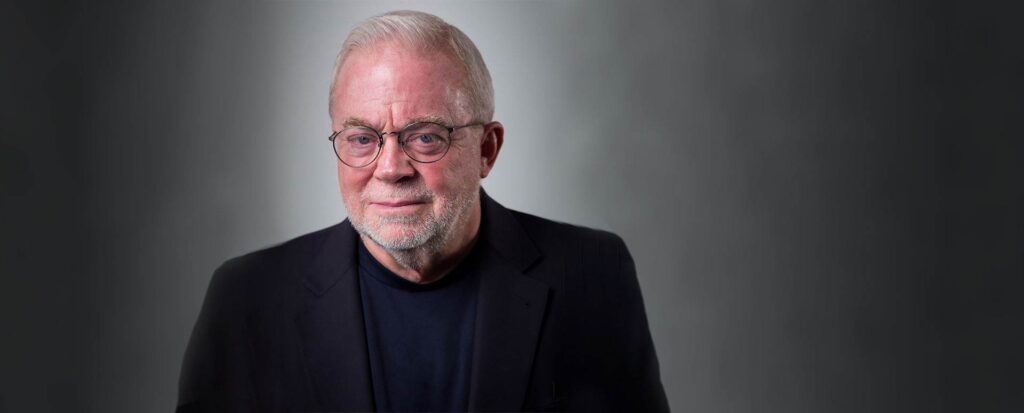 Jim Wallis is a writer, teacher, preacher and justice advocate who believes the gospel of Jesus must be transformed from its cultural and political captivities, and always be "good news" to the poor and oppressed. He is a New York Times bestselling author, public theologian, renowned preacher and commentator on ethics and public life. 
He is the inaugural holder of the Chair in Faith and Justice and the founding Director of the Georgetown University Center on Faith and Justice. In 2022, Washingtonian magazine named Wallis one of the 500 most influential people shaping policy in DC. 
Raised in a Midwestern evangelical family, as a teenager Wallis questioned the racial segregation in his church and community, which led him to the Black churches and neighborhoods of inner-city Detroit. He spent his student years involved in the civil rights and antiwar movements at Michigan State University. 
He is the founder of Sojourners, and is the author of 12 books, including America's Original Sin: Racism, White Privilege and the Bridge to America; God's Politics: Why the Right Gets It Wrong and the Left Doesn't Get it; The Great Awakening; The Call to Conversion; and Christ in Crisis: Reclaiming Jesus in a Time of Fear, Hate, and Violence; and host of the popular podcast The Soul of the Nation. 
He served on President Obama's White House Advisory Council on Faith-based and Neighborhood Partnerships and has taught faith and public life courses at Harvard and Georgetown University. He also serves as a Research Fellow at the Georgetown University Berkley Center for Religion, Peace and World Affairs. Wallis has previously taught at Harvard's Kennedy School of Government and was awarded an honorary doctorate in humane letters from Georgetown University in 2007 when he gave the college commencement address. 
"Coach Jim" also served for 22 seasons as a Little League coach for his two baseball playing sons. 
To contact Jim Wallis, please email: faithandjustice@georgetown.edu
Podcast
The Soul of the Nation is a podcast about how our faith should shape our politics and not the other way around. It informs and inspires everyone from grassroots organizers to faith and political leaders to examine our priorities in meeting the biblical call for social justice and — from that examination — to take action to promote racial and social justice, life and peace, and environmental stewardship. You can find Soul of the Nation wherever you listen to podcasts.
Georgetown Courses
Faith and politics have always interacted in American political life—in both positive and negative ways. The questions have always been not if they will intersect but how—and whether those interactions are for the common good. Race has always been at the center of our public life, with religion used to either divide us or bring us together. When presidents and other political leaders make racial fear and division even more explicit, and some church leaders are silent or even supportive, how are both the soul of the nation and the integrity of faith at stake? How are the racial inequities revealed by COVID-19 and the deeper reckoning with systemic racism sparked by George Floyd's killing changing our national narrative? We will analyze and reflect upon America's "original sin" of racism and how it still lingers in both attitudes and institutions, as well as on the fundamental demographic changes underway in the country and what it will mean to build a bridge to America's multi-racial future. How does religion at times make our nation's extreme polarization even worse, and how it could help heal it? Could it contribute to asking moral questions of all sides and faith traditions? How do we not go left or right—but deeper?