About Us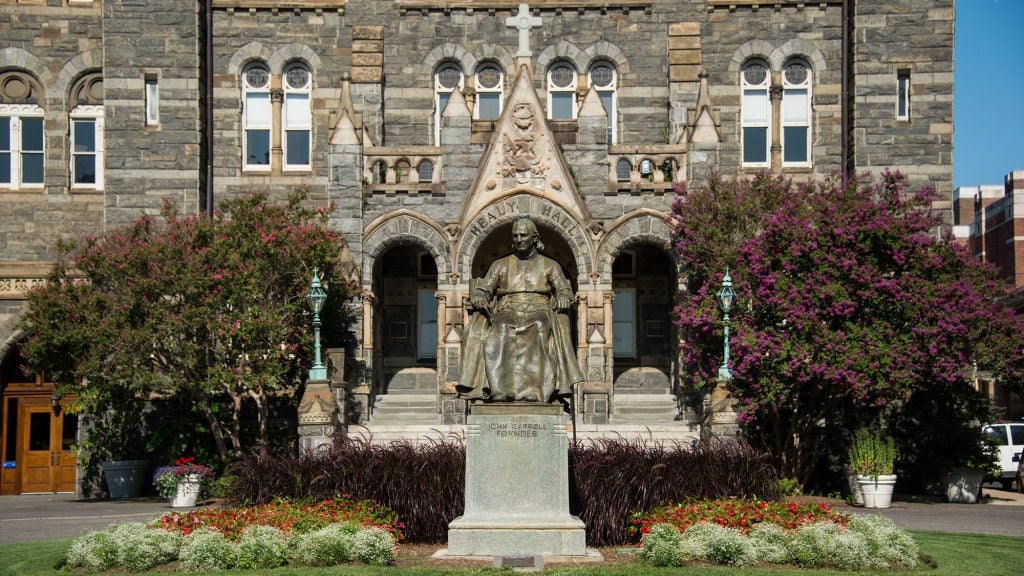 Our Motives and Mission
The Center on Faith and Justice (CFJ) is based at Georgetown University in Washington DC, and was founded in 2021 by the Rev. Jim Wallis, a public theologian and ethicist, social justice advocate, and longtime leader of Sojourners, the Christian non-profit and publication. 
Wallis now serves as Director of the Center on Faith and Justice and the first-ever Chair in Faith and Justice at Georgetown's McCourt School of Public Policy, where he has taught classes on faith, politics, and racial justice for over a decade. 
Wallis is the author of 12 books, including the New York Times bestsellers God's Politics: Why the Right Gets it Wrong and the Left Doesn't Get It and America's Original Sin: Racism, White Privilege and the Bridge to a New America. Wallis served on President Barack Obama's White House Advisory Council on Faith-based and Neighborhood Partnerships. 
Taking its inspiration from the Gospel of Matthew (particularly chapter 25, verses 35-40, in which Jesus instructs Christians to care for "the least of these brothers and sisters") the Center on Faith and Justice focuses on four key missions: 
Eradicating racism
Building a multi-racial democracy
Ending systemic poverty 
Peacemaking in the U.S. and around the world 
The Center on Faith and Justice also seeks to advance a deeper integration of religious values in society and civic life.
The Center on Faith and Justice carries out these missions in a variety of ways, including through direct political advocacy, hosting public events and private strategy sessions, organizing a weeklong Faith and Justice Academy and other academic programming, and by publishing a bi-weekly podcast (Soul of the Nation), weekly Substack newsletter (God's Politics) and regular opinion pieces for national media outlets. The center also plans to serve as a hub for students, seminarians, scholars, spiritual leaders, grassroots organizers, policymakers, government officials, journalists and others committed to serving the common good.
In welcoming the Center on Faith and Justice, Georgetown University President John J. DeGioia said the Center will help the country's oldest Jesuit institution carry out its special responsibility in the nation's capital to advocate for the common good. "We are honored to be able to advance our contribution to this idea of civil spirituality through this new center and with the leadership of our longtime colleague, Rev. Jim Wallis," DeGioia said. 
In its first year, the Center on Faith and Justice has hosted three public dialogues with political leaders and scholars: on the threat to voting rights with the Reverend Senator Raphael Warnock of Georgia and Rep. Terri Sewell of Alabama; on the possibility of building a true multi-racial democracy with Princeton University scholar and MSNBC contributor Dr. Eddie Glaude; and on the January 6 insurrection with Rep. Jamie Raskin. More events are planned. 
The Center on Faith and Justice has led campaigns to alleviate poverty by convening religious leaders and organizing public letters pressing Congress to expand the Child Tax Credit; to protect voting rights by convening religious leaders in 10 key states and advocating for national legislation in the Senate; and to promote peace by writing and circulating an open letter from Christian leaders to Patriarch Kirill of Moscow, calling on him to exercise his influence to halt Russia's invasion of Ukraine. 
Let's stay in touch.
Sign up for the Center on Faith and Justice's newsletter to learn more about upcoming events, organizing opportunities, student-led initiatives and more.