White Christian Nationalism: What it is, and how it threatens our democracy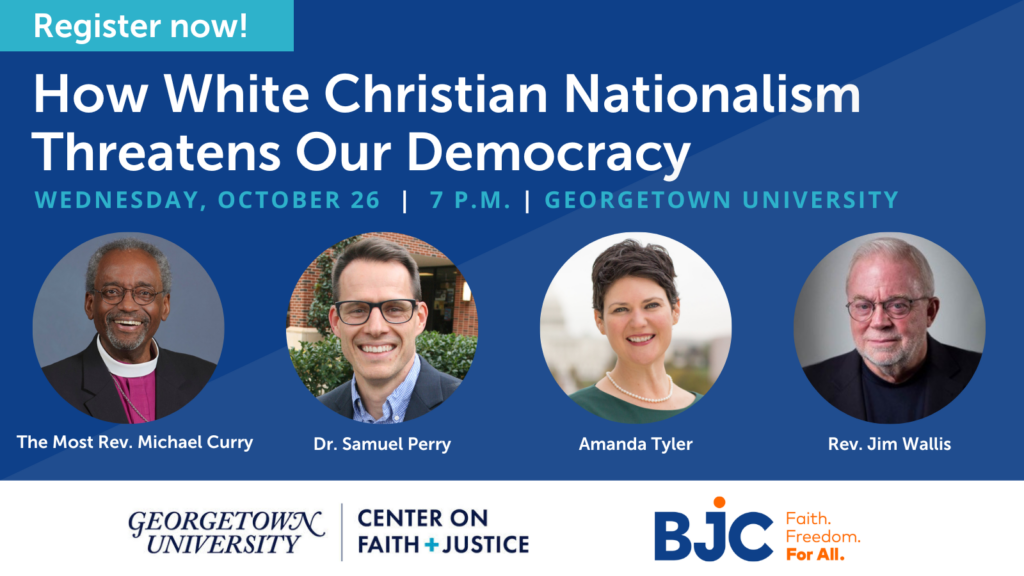 The past several years has seen the rise of a political ideology and cultural framework that distorts the Christian faith and America's constitutional democracy — and poses dangers to both. In this event, co-sponsored by Georgetown's Center on Faith and Justice and the Baptist Joint Committee for Religious Liberty, experts will explain where White Christian Nationalism came from, what its adherents want and how it seeks to overturn the idea that the United States should be a multi-religious and multiracial democracy.
Join the Center and Faith and Justice for an important conversation with: The Most Rev. Michael B. Curry, Presiding Bishop of the Episcopal Church; Amanda Tyler, executive director of the Baptist Joint Committee; Dr. Samuel Perry, Associate Professor of Sociology, University of Oklahoma and Rev. Jim Wallis, Chair in Faith and Justice at the McCourt School of Public Policy and Director of the Georgetown University Center on Faith and Justice.
Date: Wednesday, October 26th, 7:00-8:30pm
Venue: Lohrfink Auditorium, Georgetown University Main Campus
The Most Rev. Michael Bruce Curry is presiding bishop and primate of The Episcopal Church. At the church's 78th General Convention in June 2015, he was elected to a nine-year term in this role and installed in November of that year; he serves as The Episcopal Church's chief pastor, spokesperson, and president and chief executive officer.
Amanda Tyler is executive director of Baptist Joint Committee, which produced a report on Christian Nationalism and the January 6th Insurrection. She leads the organization as it upholds the historic Baptist principle of religious liberty, defending the free exercise of religion and protecting against its establishment by government. Tyler graduated from the Edmund A. Walsh School of Foreign Service at Georgetown with a bachelor's degree in foreign service, magna cum laude.
Samuel Perry is among the nation's leading experts on conservative Christianity and American politics, race, sexuality, and families. Along with numerous articles published in leading academic journals, Perry has also authored or co-authored four books including Taking America Back for God and The Flag and The Cross co-authored with Philip Gorski.
Rev. Jim Wallis is the inaugural holder of the Chair in Faith and Justice and the founding Director of the Georgetown University Center on Faith and Justice. In 2022, Washingtonian magazine named Wallis one of the 500 most influential people shaping policy in DC. He is the founder of Sojourners, and is the author of 12 books and served on President Obama's White House Advisory Council on Faith-based and Neighborhood Partnerships.
All in-person attendees must either show a GUID or confirmation of their visitor registration and are required to wear a mask covering mouth and nose at all times.
If you are not a GU student, faculty, or staff you are required to complete Georgetown's COVID-19 Vaccination Attestation. Click here to submit proof of vaccination.
All steps in this process must be completed prior to the event, or entry to the event will not be permitted. Confirmation of this will be checked prior to entrance to the event.
RSVPs are for COVID contact tracing protocol purposes only and do not guarantee you a seat. Seating is on a first come, first serve basis.
The event is taking place in the Lohrfink Auditorium located in the McDonough School of Business Rafik B. Hariri Building. Detailed directions for how to get to the Lohrfink Auditorium in the Hariri Building can be found here.
The event will also be streamed live on The Center on Faith and Justice Facebook  and Youtube pages.