Higher Calling: A conversation about religion and politics with Speaker Emerita Nancy Pelosi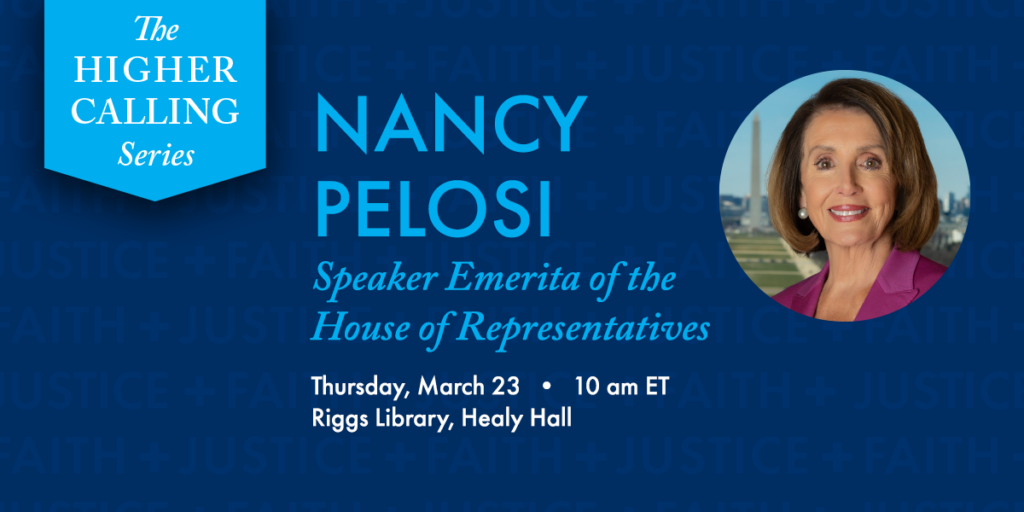 Georgetown University's Center on Faith and Justice is pleased to host "Higher Calling," a new series featuring conversations with political leaders about the role of religion and ethics in their public and private lives. The series begins on March 23, with Rep. Nancy Pelosi, Speaker Emerita of the House of Representatives, in dialogue with Rev. Jim Wallis, founding director of the Center on Faith and Justice. 
Thursday March 23 at 10 am, Riggs Memorial Library (Healy Hall).
RSVP required: https://bit.ly/3JBiW59
About the speakers: 
Speaker Emerita Nancy Pelosi has represented San Francisco in Congress for more than 35 years. She served as the 52nd Speaker of the House of Representatives, making history in 2007 as the first woman to serve as Speaker of the House. Pelosi made history again in January 2019 when she regained the Speakership – the first person to do so in more than six decades. She was the chief architect of landmark legislation, including the Affordable Care Act and the American Rescue Plan. Speaker Emerita Pelosi has also offered a powerful voice for human rights around the world, especially speaking out on behalf of Uyghur communities, the citizens of Hong Kong and the Tibetan people. 
Rev. Jim Wallis is the inaugural holder of the Chair in Faith and Justice and the founding Director of the Georgetown University Center on Faith and Justice. In 2022, Washingtonian magazine named Wallis one of the 500 most influential people shaping policy in DC. He is the founder of Sojourners, served on President Obama's White House Advisory Council on Faith-based and Neighborhood Partnerships, and has written 12 books. 
Accommodation requests and any additional event-related questions may be sent to faithandjustice@georgetown.edu. A good faith effort will be made to fulfill requests.