Center on Faith and Justice hosts pastors and seminarians for summer academy
This summer, Georgetown's Center on Faith and Justice welcomed a select group of graduate and seminary students to the Hilltop for a certificate program that helps equip current and future faith leaders with tools for engaging in civic and political life. 
The 18 students participating in the Faith + Justice Summer Academy arrived in June from five institutions, including Princeton Theological Seminary, Howard Divinity School, Emory University's Candler School of Theology and Fuller Theological Seminary. 
The five-day-long immersive experience, during which the students stayed on Georgetown's main campus, included lectures from the university's faculty and experts on policing and the American legal system, the history of religion-inspired social movements in the United States, race and justice, biblical hermeneutics and Catholic social thought. 
"This program is an essential part of the mission of the Center on Faith and Justice to advance a deeper integration of religious values in society and civic life," said Rev. Jim Wallis, director of the Center on Faith and Justice and the Archbishop Desmond Tutu Chair in Faith and Justice at the McCourt School of Public Policy. "I was pleased to see such engaged and accomplished seminarians and pastors come to the Hilltop to help us put that mission into practice."
Taking advantage of Georgetown's location in the nation's capital, the students received advocacy training from the Center on Faith and Justice and the nonprofit Everytown for Gun Safety, which shared insights and tactics for engaging lawmakers in Congress. Following the training, each student met with staff from their home state senator's office to advocate for increased gun safety.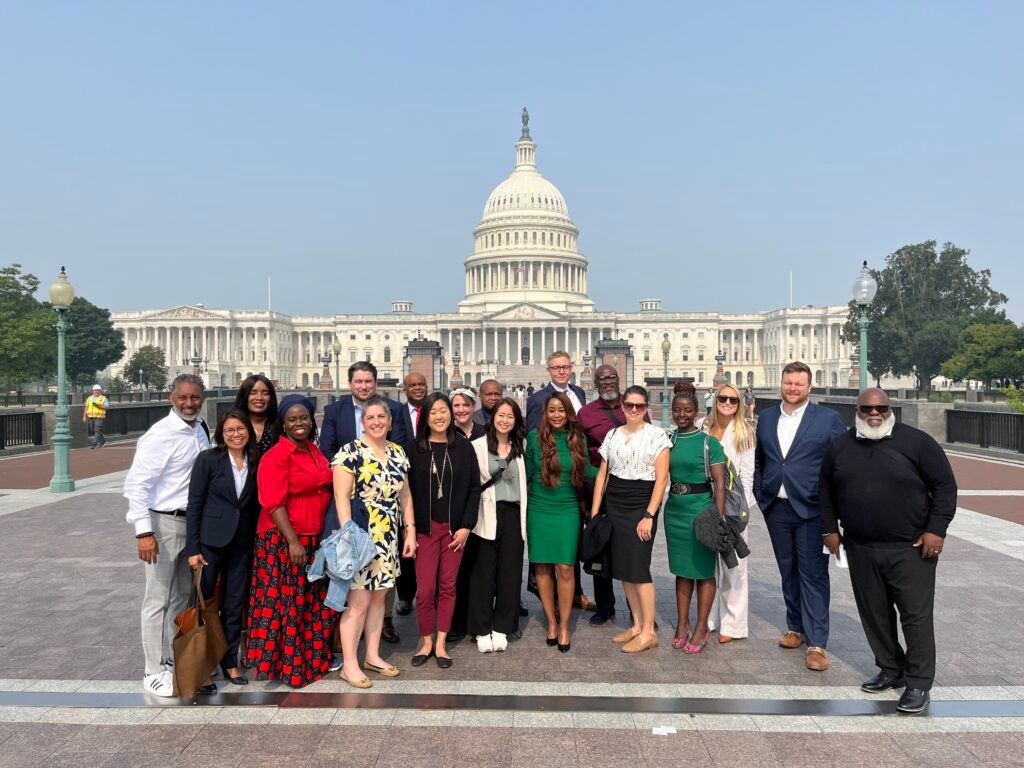 Capping the week, the students traveled to the Eisenhower Executive Office Building (EEOB) on the White House Complex where they met with senior members of the Biden Administration's Office of Faith-Based and Neighborhood Partnerships, including the office's Executive Director Melissa Rogers. 
That meeting took place in the Diplomatic Reception Room of the EEOB, once praised as "the most beautiful room in Washington," with marble fireplaces and gilded chandeliers made to "dazzle visiting foreign emissaries," according to a plaque on the wall. The ornate setting and proximity to political power made a deep impression on Rev. Tracy Ross, a Summer Academy participant from Howard Divinity School who recently experienced a period of homelessness. 
"I had a chance to go from sleeping in my car to sitting in the White House, where I had a seat at the table and could advocate for the people sleeping outside of that building on the concrete," Ross said. "Where else could I do that but Georgetown, and who else could do that but God?"
"I am a small woman," Ross continued, "but I left this program feeling really big."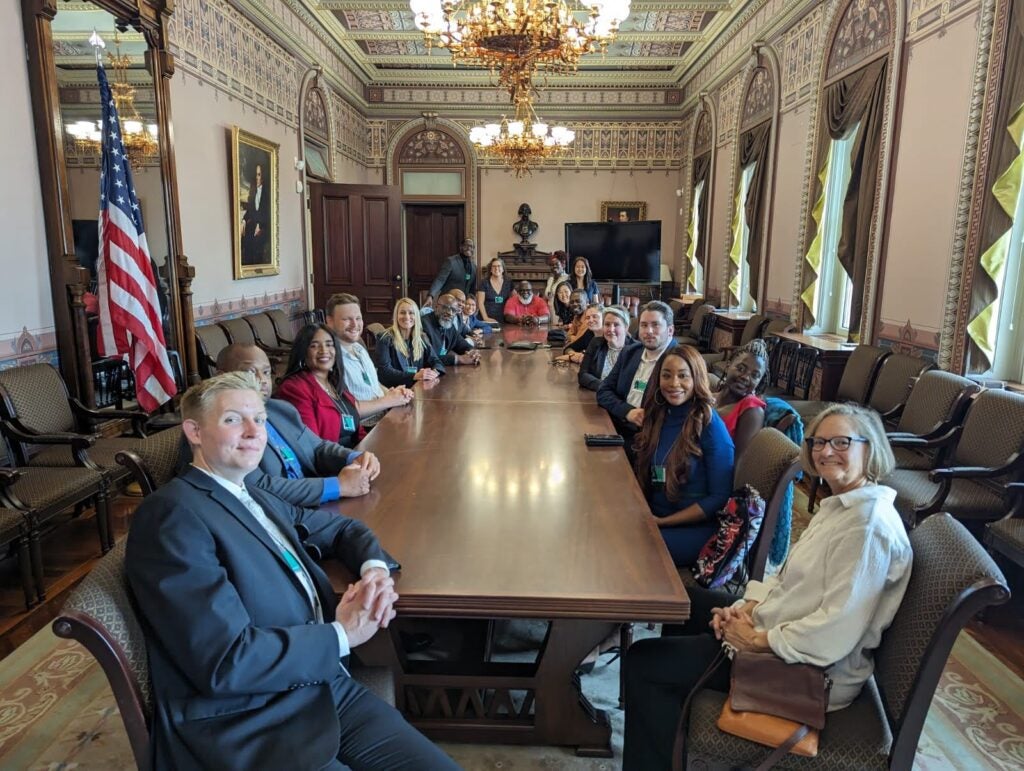 Emily Rhodes, who worked for Habitat for Humanity in New Orleans before completing Fuller Theological Seminary's Master of Arts program in Justice and Advocacy, said she was uneasy before her meeting on Capitol Hill with staff from the office of  Senator John Kennedy (R-Louisiana). 
"I really didn't think I had anything in common with this person or his political views," Rhodes said. "But the training and the experience demystified the process, and I was able to share that, for many of us, being 'pro-life' means more than advocating against abortion." 
By the end of the meeting, Rhodes and two fellow academy participants had prayed with staffers and snapped pictures with "Alphonse," a large stuffed alligator in Senator Kennedy's office.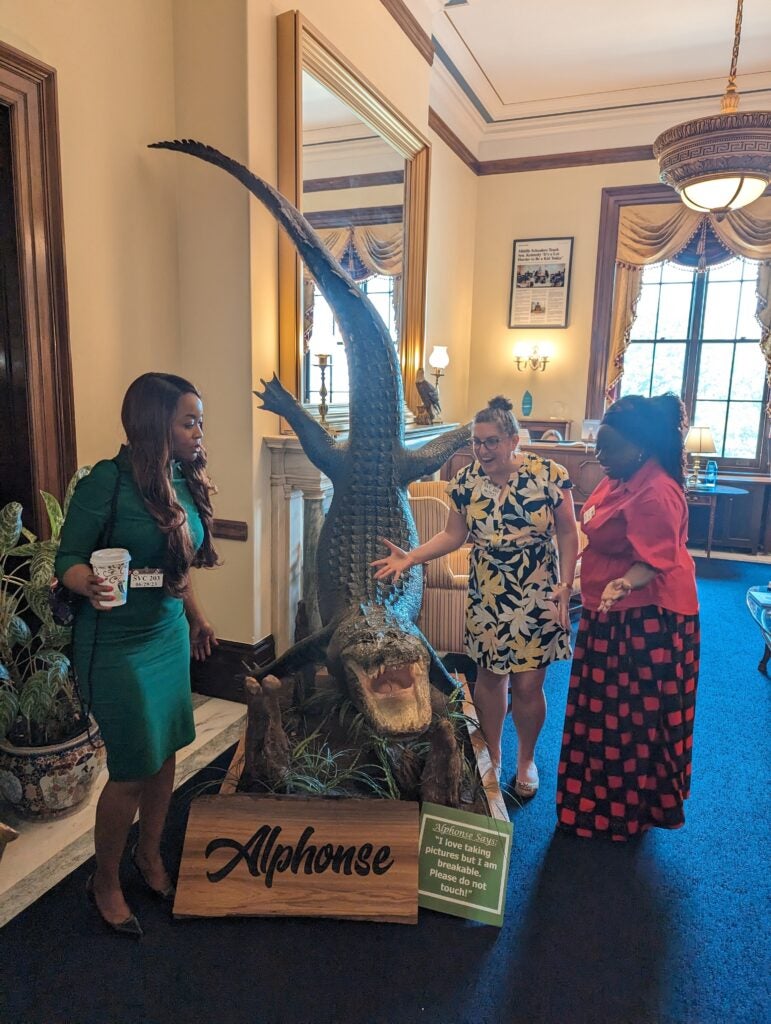 Nina Santos Laubach, a Summer Academy student studying for a master of divinity degree at Princeton Theological Seminary, said she appreciated the program's wide array of speakers. 
"As someone who is vocationally seeking, it was a really valuable look at how many different ways people of faith can engage in public life. You're not able to get that kind of exposure to such a variety of leadership in ministry in seminary, even over the course of three years. To be able to listen intently to all those voices in the course of one week, it just lands differently."
With a moonlit tour of Washington and time to sample the Capitol's cultural life, the Academy wasn't exclusively an academic experience. The students forged close bonds and still keep tabs on one another through a WhatsApp group. 
"There definitely is that summer camp vibe of, 'I just met you but now I don't know how I'm going to live without you,'" Rhodes said with a laugh.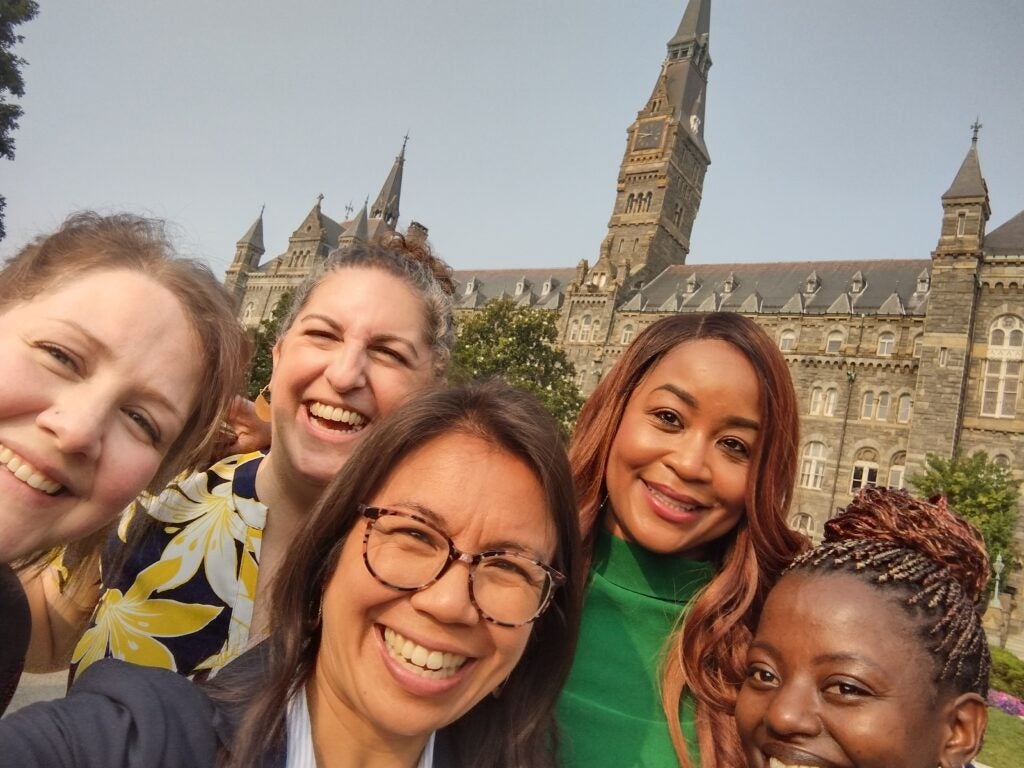 For Pastor Samuel Casey, a Fuller Theological Seminary graduate with 25 years of experience in social justice Southern California, the Summer Academy presented an opportunity to deepen his appreciation for the ties between faith and justice. 
"I would say to any seminary administrator that this is a worthwhile investment in the lives of your students," Casey said, "because it gives them the practical skills and tools to engage not only the biblical text, but also to put arms, legs, heart, head and feet to what they have learned."