Members of Congress help launch Georgetown's new Center on Faith and Justice
Georgetown University's new Center on Faith and Justice launched its public mission by hosting a bracing and important forum on voting rights with two of their strongest champions in Congress, the Reverend Senator Raphael Warnock and Representative Terri Sewell, in conversation with the Center's founding director, Jim Wallis. 
Wallis, a Christian ethicist, public theologian and bestselling author, said the Center on Faith and Justice chose to focus its first Faith + Justice Forum on voting rights not only because they are under attack, but also because they intersect with a host of other important issues, including poverty, racial justice, policing, peacemaking, climate change, immigration reform and gun control. 
"You can see that in the fight for voting rights, everything is at stake," Wallis told a packed house at Georgetown's Lohrfink Auditorium on November 17. "Not just equal citizenship, but the very future of democracy in this country. And voting rights must be named as a faith issue, even a test of faith."
Georgetown University President John J. DeGioia initiated the event by officially welcoming the Center on Faith and Justice, saying it will help the nation's oldest Jesuit institution advance its spiritual and civic missions. 
"In the tradition upon which our university is built, we acknowledge that we have a civic commitment to seek the common good," DeGioia said. "We're honored to be able to advance our contribution to this idea of civic spirituality through this new center and with the leadership of our longtime friend the Rev. Jim Wallis." 
Founded in August, the Center on Faith and Justice aims to deepen the conversation on religion and politics and to advocate for just public policies. The Center will focus on racism, poverty, peace, and justice—in all their religious, moral, personal, and systematic dimensions.
During the forum, Warnock, a Democrat from Georgia, heir to the Rev. Dr. Martin Luther King's pulpit at Ebenezer Baptist Church, and co-sponsor of several anti- voter suppression bills in Congress, stressed the gravity of the issue. 
In 2021, lawmakers in 49 states across the country  have introduced 425 bills that would restrict voting access. Thirty of those attempts have succeeded. 
"What's going on in Georgia and all across our country is very serious," Warnock warned. "It is an unabashed, all-out assault on our democracy and those of us who believe in democracy have to take up this fight." 
Warnock noted that he and Wallis had been in "good trouble" before, a nod to the late Civil Rights icon John Lewis, who made the phrase famous. 
"I heard you were retired," he told Wallis with an appreciative smile. "I discovered that you were re-wired." 
"Jim Wallis is an evangelical in the best sense of the word," Warnock continued. "He understands that faith at its best deals with the slavery of sin and the sin of slavery; that it deals both with soul bondage and systemic bondage." 
Warnock cited a new Georgia state law, SB202, as an example of new voter-suppression laws that have spread across the country since the 2020 election. "There are many terrible provisions in SB202," the senator said. "If I had to select just one, it would be the ability of partisan state actors to swoop down into local elections and without any good cause take over (running) the election."  
"What we are witnessing right now is democracy in reverse," Warnock added. "Instead of people picking their politicians, we have politicians trying to pick their people."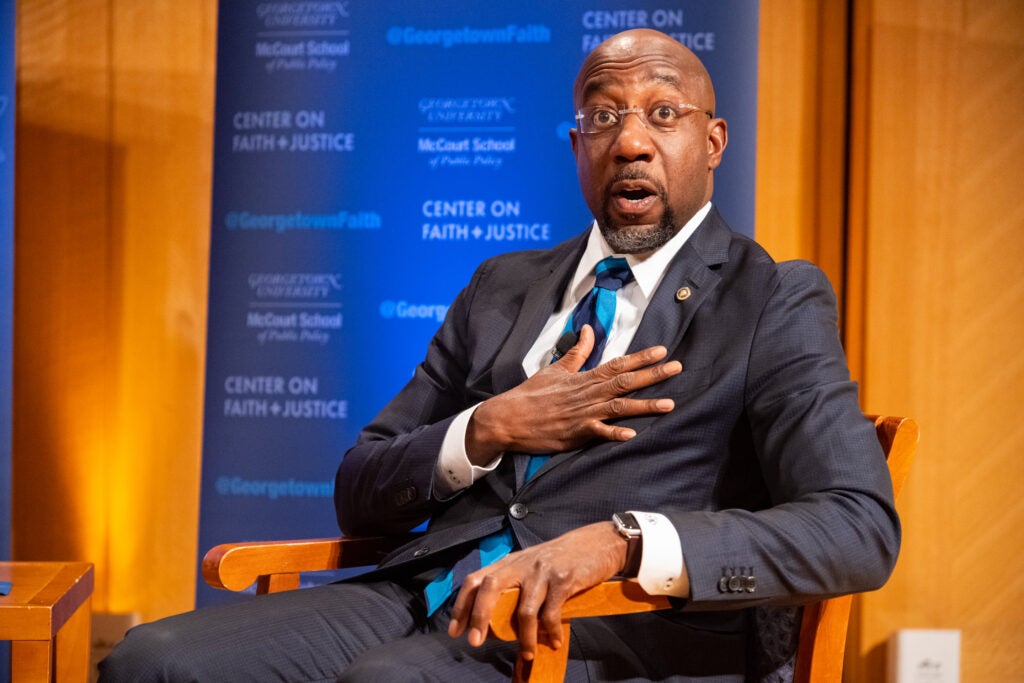 Both Warnock and Sewell argued that voting rights is not, and should not be, a partisan issue, connecting it instead to religious and spiritual values. 
"A vote is a kind of prayer for the world we desire for ourselves and our children, and I believe that is sacred," Warnock said. "At root, a vote is about your voice and your voice is your human dignity." 
Sewell, an Alabama Democrat and chair of Congress' Voting Rights Caucus who represents the historic Civil Rights cities of Selma, Montgomery and Birmingham, joked about being the only person on stage without a seminary degree. 
But Sewell painted a powerful picture of her life growing up among civil rights activists, who were her family members, mentors and babysitters. She's the first Black woman from Alabama to be elected to Congress and the only Black woman and Democrat in its current congressional delegation.
As the event drew to a close, Sewell offered an inspiring call to action — a benediction,  Wallis called it —  for the hundreds of Georgetown students in attendance.
"I hope you all will be energized by this discussion and realize that your generation should care just as much as my generation and my parents' generation," Sewell said, "because old battles have become new again."  
Wallis is the founder of Sojourners and is the author of 12 books, including "America's Original Sin: Racism, White Privilege, and the Bridge to America"; "God's Politics: Why the Right Gets It Wrong and the Left Doesn't Get it"; "The Great Awakening; The Call to Conversion"; and "Christ in Crisis: Reclaiming Jesus In A Time of Fear, Hate, and Violence"; and host of the popular podcast The Soul of the Nation. 
He served on President Obama's White House Advisory Council on Faith-based and Neighborhood Partnerships and has taught courses at Harvard and Georgetown University. He serves as a research fellow at the Georgetown's Berkley Center for Religion, Peace and World Affairs. He was awarded an honorary doctorate in humane letters from Georgetown University in 2007.